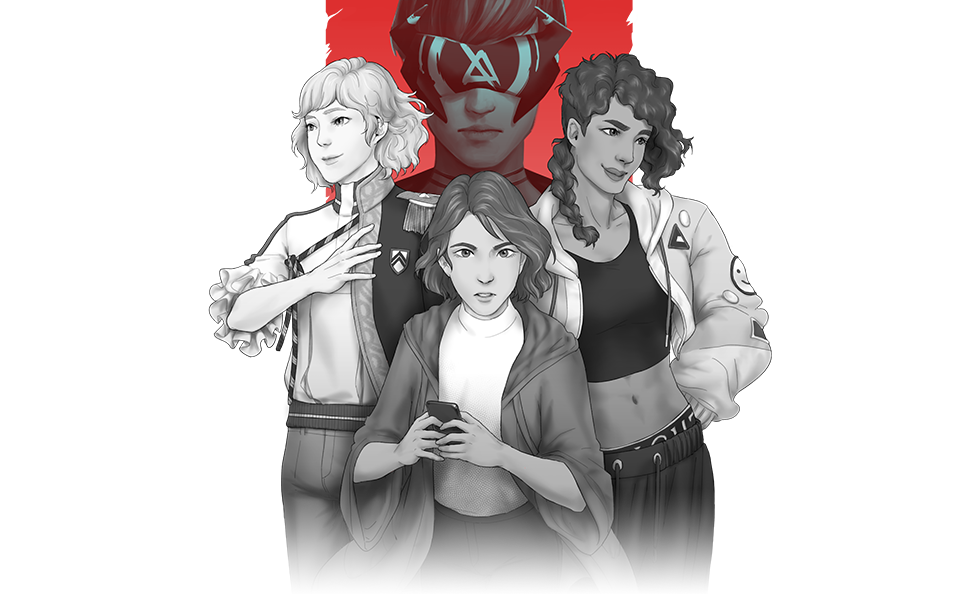 Defaction
Devlog #23 - GDD Recap and Demo Updates
---
Helloooo! We are back at the office! *:・゚✧
Working towards the German Dev Days and the actual exhibition days left us exhausted by the end of last week. But we returned with more experience, acquaintances and the general feeling of success! (人 •͈ᴗ•͈)
Neither of us has been to the GDD before and we had only heard little about this convention in Frankfurt. (It's just the 3rd time it was held as well!) Nevertheless, we were greeted by a friendly and supportive community. Up-and-coming developer teams like us were provided with equipment by sponsors. They even had free beer in the afternoons!! And yes, that's so very German, but we decided to stay sober for our first exhibition and didn't take any. (*「・ω・)ン
However, what we did take with us was a bunch of business cards and we came back with a surprising amount of constructive feedback on the demo of Defaction. It was difficult to assess how Defaction would be received prior to the GDD. Even among other indie games that have been presented there, we noticed that our visual novel styled game was rather unconventional. And yet, the many people who played the demo liked it and made an effort to give us feedback, which we were very grateful for. (uvu)
And so, with the list of fixes and improvements we wanted to make, as well as the feedback we received, we have discussed and decided that we are going to push the release of the demo further back. But just a little, so it wouldn't cut too much into the time we wanted to spend with //TODO: today pt.2. Our current estimate is that the release will be about 2-3 weeks from now, in the middle of June.
Thus we ask for a bit more patience. Considering the reactions we already got to this premature version of the demo, the wait will be worth it. ∠( ᐛ 」∠)_
And now to what else happened:
Art - PECTIN
I finished more background and character related stuff in the last weeks. Especially for the Defaction demo. Of which most of the content is still a secret. Haha...SO. What else did I do?! Maybe we can talk about Fire Emblem? I like Fire Emblem. But I'm not too familiar with the titles before Awakening. So maybe not....here at least. (。◑ヮ◑。)
Aside from that I did find something small to tell about which is completely unrelated to the story and major experience of the demo. I completed a Google spreadsheet. Very exciting! (Not.) ...But helpful!
This is a part of the Defaction (demo) Expression Sheet. Defaction has a lot of characters and we needed to manage their expressions somehow. Every character has their unique way of showing certain feelings. And each character has separate sets of eyebrows, eyes and lips. Hence with all of the varying sets and parts of facial sprites we had to organize these.

With our last projects eZombo just spearheaded all of the expression in his story writing and I remember only needing to give only little feedback to some scenes in this regard. The facial sprites of our past games included everything on the face but the nose. So one could choose which face would suit which kind of mood. Which isn't always easy, but it's doable if you're familiar with the characters. With our new system this kind of work would be infinitely tiresome without a guideline. Yup. So there it is. An organisational table.
Dev - eZombo
The whole week before the GDD is kind of a blur at this point but I mainly spent it revising the dialogue and tweaking and implementing all kinds of small things which isn't really exciting to talk about anyway...
Since then I've been working on finalizing all the functionality of the phone that will be necessary for the updated demo. The browser is taking on a more important role now so I revised it a little and aside from displaying the (virtual) websites of our game, it now has a working history and buttons to move back and forward through it!
As of now this does not include sub-sites of a website (due to the way they are implemented) but I might add that feature in the future should it become necessary.
The last bigger feature for the phone that I have to implement is the Gallery App which is fairly self-explanatory. After that polishing it all will probably keep me busy and in terms of content, revisions of almost all scenes of the demo are still waiting for me.
Well, and that's about it for this devlog. It's pretty exciting to see everything come together and especially after seeing people play the demo at the GDD we're really looking forward to when we finally release it publicly!
As always, thanks for being interested in our games and we'll be back with another devlog in two weeks!