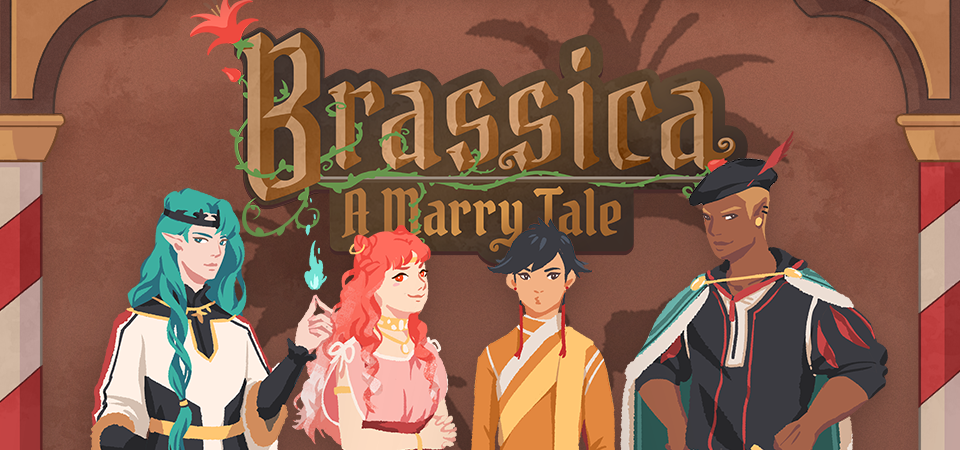 Brassica - A Marry Tale
Devlog #33 - Brassica Status Update, Mirrorboy, and some //TODO
---
(Note: Because we also post these devlogs on our blog, the numbers also count devlogs for other projects)
Hi there! It's been a bit over two months since our last devlog so we're back for another status update!
As we already announced previously after the release of //TODO: today, our team went on to work on separate projects for now.
PECTIN dove right into development of his new game Mirrorboy while eZombo took a bit of a vacation before returning to work on Brassica while helping to host the Bara Jam and making the music for one of its projects.
Mirrorboy Project

(cropped version of a finished character sprite)

Mirrorboy is currently the working title of PECTIN's project we mentioned a few months back already. It's likely going to be the final name too. But PECTIN is still a bit conflicted due to the resemblance to other existing entities. We've also mentioned that this will be another visual novel styled game, but this time it'll run on Android mobile devices! So you can expect this game to hit the Google Play Store and of course Itch.io eventually. (iOS is in discussion)

What's this game about? Will there be romance or adventure or just stylish characters who'll join you to fight evil? Well, there'll be all of it if you want to ('cause romance is optional)! And we'll reveal for the first time, that this game will focus on a very personal topic for its creator. PECTIN dedicates Mirrorboy to his younger self who was struggling to understand their gender and to everyone who is on their own journey of discovering what gender means to them. That's also a reason why it'll be on mobile devices. Though it will let you experience things through the eyes of a hero (Mirrorboy) it's going to be a personal experience. It will be a game you want to play lying in a cozy corner of your home.

If you're curious about the process of how PECTIN is making Mirrorboy you can check out his:

Mirrorboy Dev Tumblr: https://project-pectin.tumblr.com/
or Twitter: https://twitter.com/Pectin_
But back to Brassica!
As of now, the second act is almost completely written. Expressions and character images still need to be implemented for the most part, the music still needs some work, and we also need another background and three CGs before we can release the full second act.
That said, PECTIN is currently completely occupied by the work on Mirrorboy so a release of Act 2 in 2018 is unfortunately looking unlikely. We're sorry about the delay, but if you like our projects, there's a good chance you'll also enjoy Mirrorboy!
As we announced in our last devlog, we are also still planning to release another minor update for //TODO: today with some additional music tracks and some bug fixes. Along with that, eerron will also release the soundtrack for the game. This will all happen some time this month so stay tuned for that!
The special edition zine however is still in production. We still need some artworks and writing for that so it's difficult to say when exactly it will be finished but from the looks of our schedules, it will probably happen around or after the release of Act 2 of Brassica.
Well and that's all the news for now. Our devlogs will most likely remain irregular for now but we'll try to keep you updated on our progress!
As always thanks for reading and have a good day/night!
Get Brassica - A Marry Tale