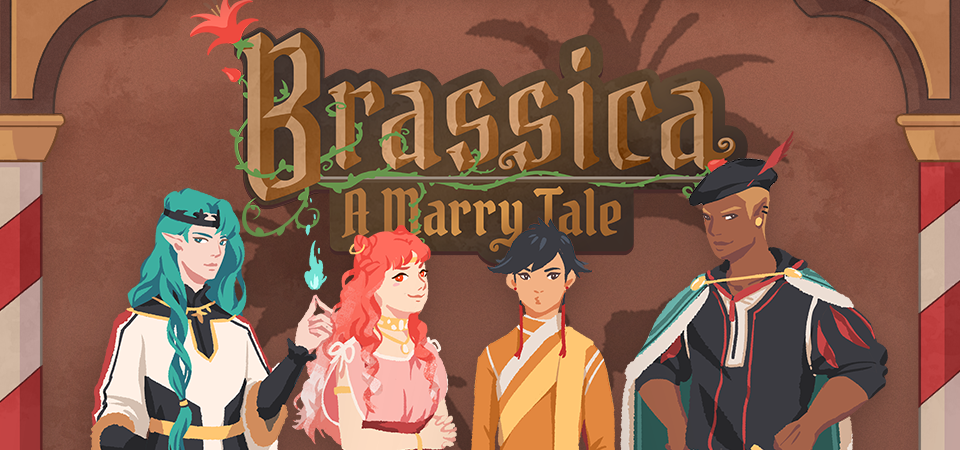 Brassica - A Marry Tale
Devlog #47 - Brassica Update and the Current Status
---
Hello everyone! (´-ω-`)
We hope you're well and enjoying a bit of downtime while you're here! Our last devlog has been uploaded on the 12th of December '19 so it has been quite some time since we last checked in to report on BL+ doings. Still we're trying to keep things shorter than last time. 'Cause there's a lot to tell haha!
General BL+ Things
Pricing of Brassica - A Marry Tale
Brassica is currently at 5$. This is a price we think was agreeable for Act 1 and Act 2 (of 5 Acts in total). And for you who is paying for a game which is still in production. Since its beginning we planned to take Brassica to the market with a "proper" price tag, considering all the effort and work hours spent on making it. And that will be 15$. You heard it right. Will be. Which means that you who has already bought the game for 5$ already will...rejoice knowing that by supporting us now you won't pay a single penny more when the full game is out!
(σ・з・)σ
This is our plan: We are going to increase the price* with the release of every new Brassica Act. Brassica,with Act 3 will cost 8$. With Act 4, 11$. Finally in its completion with Act 5, we will raise the price to 15$.
*Edit: it said "increase the price by 3$" which is not quite right

We are really thankful for everyone who has supported us by buying Brassica in the past and trusting our efforts. Thank you so much!!
A New Dress
You might have noticed but it's very subtle. BL+ is going through a visual change! And that since last year already. This means pink won't be EVERYWHERE anymore. Pink has been the colour we decided which would suit us best when we were only working on //TODO: today. But as our range of projects is growing we think that we need a foundation that will connect all of our games. Our new design will be sleeker! We'll continually sneak new elements in while working on our projects. You might have spotted our new logo already :D
Monthly DevVlogs
When we started writing devlogs back in 2017 we aimed at one per week. Because of how much production time this cost us we switched to one every second week. Due to tight planning we had several breaks in the frequency of our posts and by 2019 we decided that it would be better and more interesting to keep the devlogs at one every month. This is what we'll aim for now. Upload times will be by the end of the month for each monthly devlog. And that's not everything!
Because reading a longish text can be tedious we're currently planning to do this in a new format! Yes. We, us, two introverts, are going to make devlog videos where we talk about what has transpired at BL+. It will be written/presented in a way so that you can listen to our devlogs while working on something else, like a podcast! We have a YouTube channel after all…
What's Next
We are going to continue our work on Brassica. There will be new features like additional character sprites and the main and game menus will get upgrades!
//TODO: today is getting a polishing update with a bit of a new feature as for more inclusivity. ◝(°꒳°*)◜
We are also still (secretly) planning a mobile game. And apart from that joining the NaNoRenO 2020 for a week. Stay tuned for a short narrative game!
Act 2 Update
Today we also released an update for Act 2 of Brassica with some additional content and fixes to the first two Acts!
Most notably the update adds new CGs and some music variations but we'll go into some detail on what exactly the update entails. For a full list of changes feel free to take a look at our change log!
CGs
I (Rohan=Pectin) have been working on two new illustrations for Act 2. When deciding to go with Ode's or Hans' plan on finding a way out of the Friendship Forest you'll be greeted by an illustration on each route! There are many more things in the works but this was it for the past months because I had the rare chance to go on vacation for three weeks haha!
Jiufen, Taiwan
Soundtrack Variations
Because the princes spend the majority of the first two Acts on the road, so far the travel music is the one you get to hear the most. To add some variation and to support the changing scenery, we added alternative versions of the travel music for the different locations our characters visit up until the end of Act 2!

Other Changes and Fixes
Aside from these additions, version 0.7.1 of Brassica includes a lot of small changes and fixes to improve the overall experience.
You can find the full list in our change log but the most important ones are a magic sprite for Hans, bug and typo fixes along with some general tweaks in the script, and some adjustments and polish to the save and general in-game UI.
Well, and that's it for this devlog! As always thanks for reading and being interested in our projects. Next month we will be back with our first devlog in video form, so we hope you look forward to that!
Get Brassica - A Marry Tale