//TODO: today
//TODO: today Special Edition Zine Release
---
Hi there!
It took us a little longer than initially announced but last night we finally released the Special Edition Zine for //TODO: today!
What we originally envisioned as a 20-page booklet ultimately grew to almost four times that size and with 79 pages not only collects all artworks from the game but has a bunch of extra content, most of which hasn't been released anywhere before!
To give you a better idea, here is an outline of what the zine includes:
Environment art (including early sketches)
CGs and special illustrations
Character profiles
Character art (including sketches, concept art, and sprite sheets)
All answers to the questions from the Bestest Cupcake poll
A short story written by Snow!
A side story about the life of Ms. Cardhover and Snow
Some hints and tips to help you through the parts of the game that have multiple outcomes
A retrospect on the development of the game
And a special illustration
Since the game's original release more than two years ago, a bunch of people have chosen to support us by paying some money for it and this is our way to say thank you to everyone who did so.
If you donated some money but aren't at the $5 mark to get access to the zine, the itch.io app lets you increase your tip on the game page.
In the browser version you simply get the option to donate again, but as this is the first time we are doing something like this we can't say for sure that itch.io counts tips cumulatively (although it would be strange if it didn't).
If you run into any trouble with this, don't hesitate to contact us so we can work something out!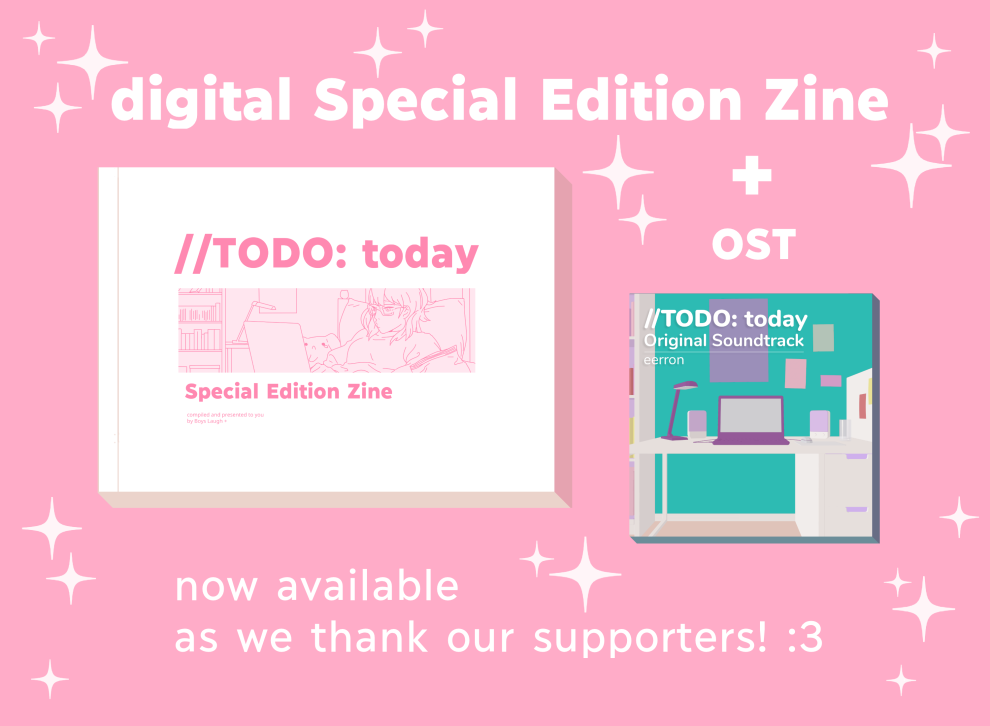 Along with the zine, we also offer a bundle with the soundtrack that lets you get both for just $8!
Out of the box, this doesn't give you the encoding options that buying the soundtrack on Bandcamp gives you but if you want to listen to it in a lossless format or just want to add it to your Bandcamp collection, just contact eerron with the receipt of your payment and they'll work something out to make that happen!
Well, and that's about all there is to know about the zine, soundtrack, and how to get them! If this piqued your interest, just head on over to the game page.
Once again, thank you so much for all your support and we hope you'll enjoy the Special Edition Zine!
Files
TODO today Special Edition Zine.pdf
19 MB
Oct 02, 2019
TODO today Original Soundtrack.zip
108 MB
Sep 27, 2019